Fantasy Props
Props and costume accessories inspired by our favorite Comics, Movies, and Videogames.
Swords, Shields, Helmets, Blasters, Guns, and Much More!
Realistic Film Props
All of our gun weapon props are designed to look realistic and be safe for use in Film and Cosplay. Check the legality of your use of such props in your area. Props will have a blaze orange end as required by US law, please use common sense when using them in public.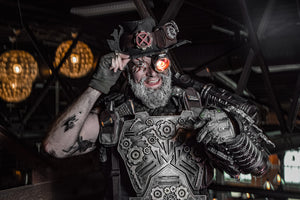 About Wulfgar Props
One day fearless leader, James Wulfgar, realized the costumes he created for personal events could be shared with a wider audience at conventions. From there it was a natural progression to making costumes for other people. 
Since then the company has produced work for individuals, movie sets, and even music videos. We're excited to work with anyone that has an exciting creative vision.